CASE STUDIES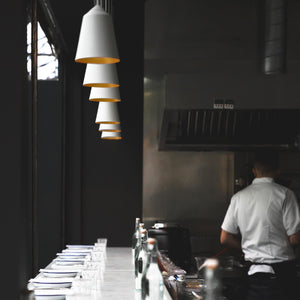 Our small white Circus pendants feature within the British 'farm-to-table' restaurant Plot Kitchen in London, United Kingdom. Founded by Mark Kimber and Harry Smith and designed in-house, the pendants are neatly aligned above the sleek marble bar, which hosts diners enjoying the restaurant's fresh ingredients and beautifully plated food.
Photography: Dunja Opalko
SHOP THE SMALL CIRCUS PENDANT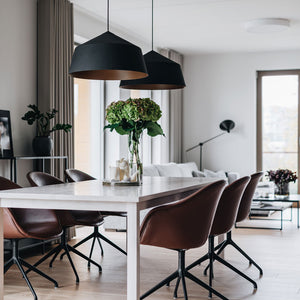 Our large black Circus pendants feature in the open kitchen and dining area of this beautiful and tranquil apartment which AVA Interior Lab created for a fashion photographer and her family in Tallinn, Estonia. Featuring a palette of natural tones, complemented by the warm light emitted by our Circus pendants, setting the mood for intimate dinners and convivial entertainment.
 Photography: Tõnu Tunnel
SHOP THE LARGE CIRCUS PENDANT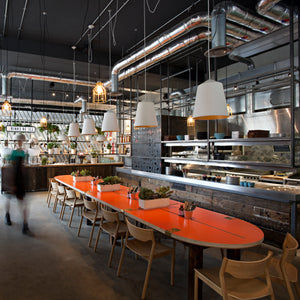 A mix of our medium and large white Circus pendants feature throughout the Mexican restaurant DF/MEXICO in East London's creative hub the Old Truman Brewery. The restaurant was co-founded by UK Masterchef winner Thomasina Miers of the popular Mexican street food restaurant Wahaca and designed by creative agency Softroom. 
Photography: Mark Whitfield
SHOP THE MEDIUM CIRCUS PENDANT
What our customers say
Pendants are in and looking great. Thanks for all your help, it has been greatly appreciated. The pendants are beautifully designed. We are really happy with them.

O'Keefe Architects, Australia
We are thrilled with them! Everyone loves them!

Mr Lloyd, UK, purchased our Circus Wall sconces
Absolutely stunning pendants used in our design on Angus Drive. 

Hungerford Interior Design, Canada
CLOSE TO OUR HEARTS

AUTHENTICITY
The Circus Collection was designed by Corinna Warm for WARM and is manufactured and distributed exclusively by Studio Warm. 
When you buy our original Circus Collection you can trust to receive an authentic product, in colorways and finishes as originally intended by the designer and to the high standards of quality our company Studio Warm has become renowned for internationally. 
All our products are fully certified to adhere to regional requirements and come with a three year warranty as standard.
You can feel reassured that your purchase from our independent design studio supports the original designer's small business. Unlicensed products rob designers of their royalties, result in loss of sales due to unfair competition and are crushingly harmful to the creative industry.
If you are in doubt about the authenticity of a product for sale please let us know, we would be happier to offer you a discount for a genuine product, rather then knowing you are purchasing a subpar quality, unlicensed replica product made in China.

SUSTAINABILITY
We are committed to our responsibility to the environment and act accordingly to protect nature and conserve its resources in bringing our products to market.

Our pendants are made from recyclable aluminum and our powder coating materials are free of Volatile Organic Chemicals (VOC's), as certified by our suppliers. We have been working hard to phase out all plastic from our packaging, whilst ensuring our products will be well protected on their journey to you. We use starch packaging peanuts which are 100% biodegradable and will decompose in water. We welcome your thoughts and recommendations.
WOMEN IN DESIGN

The Circus Collection was designed by Corinna Warm. Corinna has run her boutique design studio since 2007. Originally founded in London and privately funded from day one, she has been developing high-end home products across furniture and lighting. In a male-dominated design industry, Corinna quickly made a name for herself for her warm, contemporary design and timeless elegance, balanced with an often sculptural aesthetic. 

MADE IN AMERICA
Our products are crafted by local artisans in Greater Los Angeles. We pride ourselves in supporting local makers and industry in providing you with our high-quality product.
Not only does this keep small local businesses alive, it also provides us with the ability to keep a close eye on production to ensure our product meets our exceptionally high standards of quality control.
We are proud to be able to say that our pendants are hand spun and powder-coated right here, in Greater Los Angeles. Los Angeles is the largest manufacturing hub in America and this provides us with an incredible network from small independent artisans to large scale production shops.
We seek out people who like us, take great pride in their work and are passionate about their craft.
We follow thorough quality control procedures to ensure each product complies with our high quality standards. Each product is tested and certified before it is carefully packaged in environmentally friendly packaging and shipped to you, our customer.